How to Choose the Perfect Earrings
for Your Wedding Day
September 2021
Our Guide to Bridal Earrings
Wedding day earrings are the icing on the cake.
Along with your dress and hairstyle, also consider the overall look, feel, and location of your ceremony and celebration.
Here's what we always keep in mind when recommending the most exquisite earrings for your wedding day or bridal weekend.
For those who want to go beyond tradition and venture into new territory, one-of-a-kind gemstones and whimsical combinations of stones offer originality and style.
"It's your special day and
you'll remember the earrings you wore forever.
As long as you pick a pair
that makes you happy
and brings you joy,
you absolutely cannot go wrong."
xx Irene
Consider the aesthetic of your overall wedding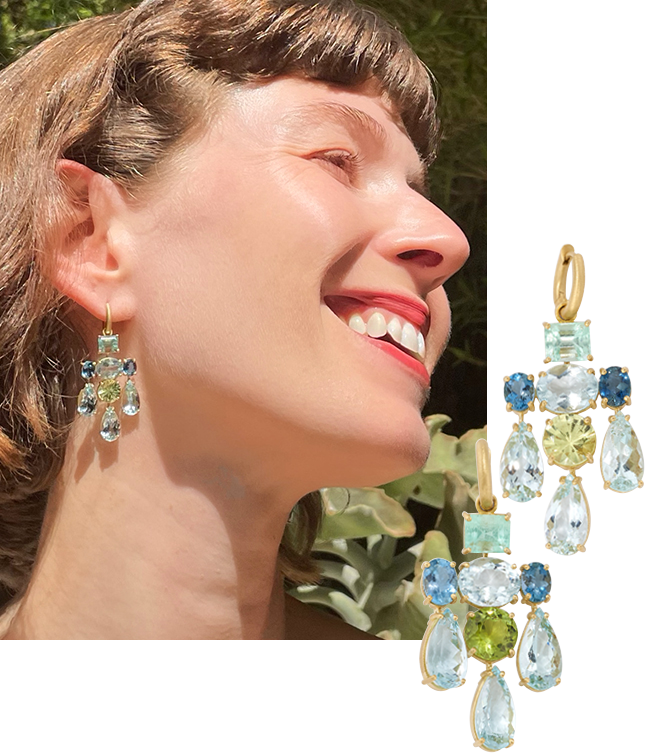 A pair of Gemmy Gem Chandelier Huggies takes royal style into the present day with fresh cuts and stunning shades. Choose colors that reflect the beauty of your surroundings for a subtle, sophisticated look that's seamless.
Wedding earrings and bridal earrings we'd recommend