Once Upon a Time,
There Was a Fruit Necklace
August 2020
A Note from Irene:
When Life Gives You Citrine Lemons
"You know me. I love something that combines fine jewelry with playful sensibility. A collection all around fruit? Well, that seemed like the perfect departure from the seriousness of everyday life.
When I first started designing, I used to draw and paint everything before it was made. As time went on, my process organically changed into finding stones, and then creating pieces around them. Now that we are all working from home -- and not traveling to gem shows for the time being -- I've been able to get back to designing the way that I used to love.
Just after safer-at-home orders went into place in California, I was sitting in my home studio listening to Bruce Springsteen's radio show, and it really lifted my spirits. So much so that I just began thinking about happy, colorful jewels and decided to take out my watercolors. I started with a little citrine lemon, and it all sort of went from there. Beauty has been the best distraction.
I believe in making and wearing what makes you feel good and expresses your individual style and the Fruit Necklace is such a joyful piece. It's as fun to wear with a party dress as it is to wear around the house with your pajamas!"
xx, Irene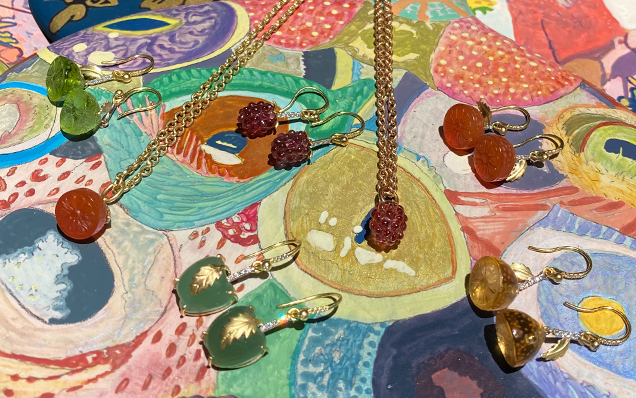 "A collection
all around
fruit?
Well, that seemed like
the perfect departure
from the seriousness
of everyday life."